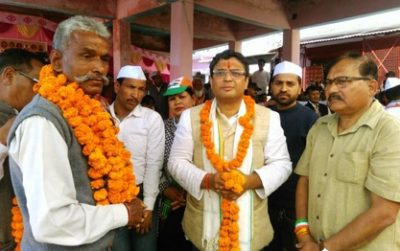 Pauri, This Lok Sabha election, out of the MP seats which fall within the preview of  Uttarakhand, the one worth looking out for is the Pauri Lok Sabha seat.
Here a rather interesting battle for legacy between a son and a disciple will be played out.
After much speculation of 'will he / wont he' on the 16th of March at a rally addressed by AICC Chief Rahul Gandhi in Dehradun, 51 year old Engineering Graduate, Manish Khanduri joined the Congress party. The fact that Manish Khanduri is former Chief Minister and Senior BJP leader Bhuvan Chandra Khanduri son and will be contesting from Pauri on a Congress ticket made it headlines.
As for his rival, BJP selected National Secretary Tirath Singh Rawat, considered a close aide of veteran leader BC Khanduri himself. Elevated to the post of BJP'S State President in 2013, Tirath had none other but his "political guru" B C Khanduri to thank for.
In a recent interview to the press Manish stated, "BC Khanduri is my father and I have his blessings. My fight is ideological,"
And Manish doesn't feel new to the Congress ideologies. His paternal grandmother, Durga Khanduri was a Senior Congress pioneer from Uttarakhand while his maternal uncle Hemwati Nandan Bahuguna was a veteran Congress front-runner from the hill-state as well.
A fact that BC Khanduri himself reiterated in the media, "My son is an educated person who can do whatever he desires. I fail to understand why questions are being raised in this regard. Politics is not some family business that he should follow me."
Since Pauri is considered to be stronghold of the BJP, it will be nothing less than an uphill task for the new entrant Manish to woo voters. Whether his father's goodwill over the years will flow into his kitty, across party lines or will his people take time to be won over personally by the dint of his own sweat and toil, will be made clearer on counting day i.e. 23rd of May 2019.