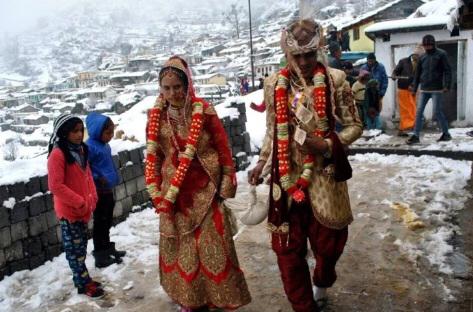 Rudraprayag, Stories of valor and bravery of men in uniform fill up the hills and vales of Uttarakhand but here's an endearing tale.
25th January 2019 was set as a wedding date months in advance. Rajnish Kurmachali, an army jawan from Trijuginarayan was to marry Shikha of Makku Math.
It was all going as planned. Or at least that is what everybody thought up until the time, the heavens opened up with the season's heaviest snowfall. But not one for disappointments, the young man wasn't going to let the weather god's stand in his way.
The baraat – the groom and his entourage – set out on a walk of six kilometers near Makku Math where the wedding was to take place. Dressed in their besties, the groom and his close relatives took things in their stride and walked all the way.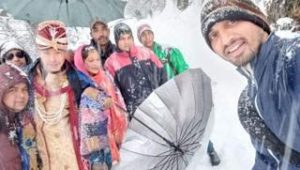 Wearing an off-white sherwani with a maroon stole thrown his shoulders, the groom with his uncles, aunts, sisters and their children in tow, defied the weather gods with just shawls, jackets and the odd umbrella. They punctuated this procession with many a selfie along the snow-quilted path. Of course the wedding formalities and rituals were observed before the young couple trudged back to where their cars were stranded. What more than, a touch of snow in your face could be a perfect beginning of a lasting relationship.
Talking to us over the phone from Punjab, a coy Shikha told team Newspost: "So much preparation went to waste, but that was God's will! " Rajnish feels it was worth the effort: 'And my bride is so sweet!' he adds.
At the day's end, those who can walk between waltzing snowflakes are singularly blessed by the Gods of Devbhoomi. Here we have Shikha and Rajnish Kurmachali who make that saying come alive in hills of Uttarakhand.