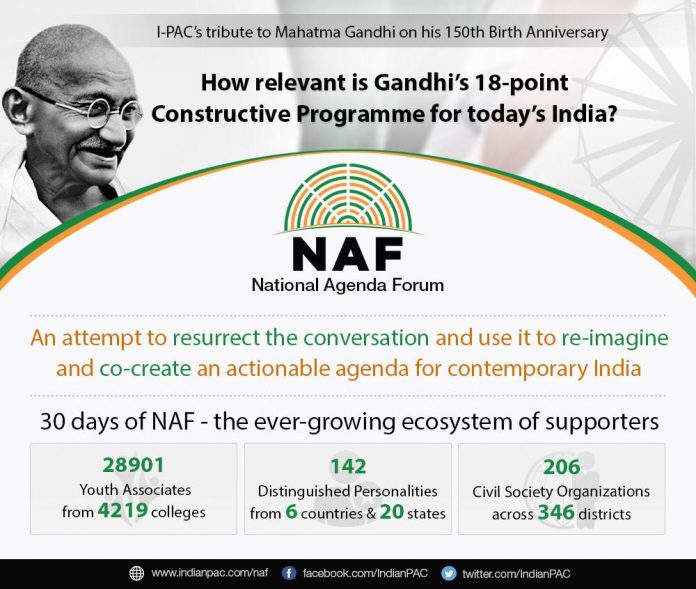 Indian Political Action Committee (I-PAC) a platform of choice for students and young professionals to participate and make meaningful contribution to political affairs and governance of the country, without necessarily being part of any political party, has come to garner support from like-minded people of the hill-state of Uttarakhand as well.
Within a month of its launch, the National Agenda Forum (NAF) has garnered huge support from across the country. To date 28,901 youth associates, 142 distinguished personalities and 206 civil society organizations have joined the ever-growing NAF ecosystem, as it is popularly called.
Indian Political Action Committee (I-PAC) recently launched the National Agenda Forum (NAF) as a tribute to the Father of the Nation, Mahatma Gandhi on his 150th birth anniversary year on 29th June 2018. NAF is a pan-India initiative to resurrect, re-imagine the country's priorities around Gandhiji's 18-point Constructive Programme with the vision of contemporary India in mind.
I-PAC works with visionary leaders who assist in setting up a citizen-centric agenda and partners with them to conceptualize & implement the most effective methods of taking it to the public and gathering mass support.
The National Agenda Forum has already managed to garner support from a diverse group of people which includes; Gandhians, Recipients of civilian honors, Eminent public servants; Sports personalities; Entertainment personalities and many more.
Presently – 28,901 youth associates from 4,219 colleges, 142 distinguished personalities from 6 countries and 20 states, and 206 civil society organizations spread across 346 districts have joined the NAF ecosystem.
Over the next couple of weeks, I-PAC plans to reach out to students in 750 colleges and 320 civil society organizations across 21 states, during our field visits.
To be a part of this unique initiative, aware citizens can become a part of NAF by logging on to:
To vote on the agenda and the leader from the list, click on the given link:
https://res.cloudinary.com/indianpac/image/upload/v1532624966/naf/support_for_naf.pdf