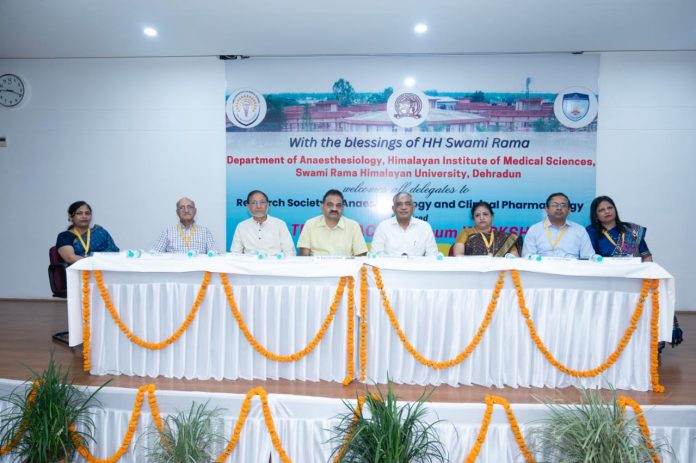 Ddateline Dehradun: The Department of Anaesthesiology of Himalayan Institute of Medical Sciences, Swami Rama Himalayan University, organized a one day Mid-Term RSACPCON 2023, under the aegis of Research Society of Anaesthesiology and Clinical Pharmacology. The event was held at the premises of Himalayan Institute of Medical Sciences, Swami Rama Himalayan University, under the leadership of Dr. Veena Asthana, HOD Anesthesiology and Organizing Chairperson of this event.
The academic program comprised of CME along with three workshops named Advanced Airway Skills Workshop, Labour Analgesia and Communication Skills (Samvaadshala) workshops with resource faculty from premier institutes of the country.
The program was inaugurated by the Chief Guest, Dr. Rajendra Dobhal, Vice Chancellor,
Swami Rama Himalayan University who congratulated the organizing team for their efforts in holding such an enriching academic event, stressing the role of communication in medical fraternity. The Guest of Honour, Dr. Vijendra D. Chauhan, Director General Academic Development enlightened the audience about Swami Rama who was a great visionary and Dr. Indrani Hemant Kumar, President of the RSACP stressed on the need of such medical programs for updating anaesthesiology knowledge amongst the postgraduates as well as faculty. Dr. Ashok Deorari, Principal HIMS gave an overview of National Academy of Medical Sciences to the audience. Dr. Tej Kaul, Patron, Dr. Anju Grewal, Vice President and Dr. Vishal Singla, Honorary Secretary of RSACP graced the occasion with their presence. The Academic event witnessed the presence of around 175 participants including Anaesthesiologists, postgradutes, MBBS students and other health care providers.
The CME program highlighted guest lectures and panel discussions with interesting out of the Box topics.
Congratulating the team members for the successful execution of the event Chancellor, Dr Vijay Dhasmana stated that, "This initiative encompasses anesthesia, intensive care medicine, critical emergency medicine, and pain medicine and will go a long way in helping reduce the sufferings of patient. This is work that is being done for the service of mankind and is commendable."
The workshops provided hands on training and skill stations with Case scenario demonstrations enriching evidence based information. This national level conference was liked by one and all, and the participants congratulated Dr. Veena Asthana, Organizing Chairperson and her team comprising of Dr. Gurjeet Khurana, Dr. Parul Jindal, Dr. Nidhi Kumar, Dr. Divya Gupta Organizing Secretary and other faculty members for the success of the event.