Dateline New Delhi: Ending Producer, Director and Film-maker JP Dutta's birthday week on a high note, the Valley of Words, International Literature and Art festival felicitated Shri JP Dutta for his sterling contribution to the world of cinema.
At their Military History and Strategy vertical held at the USI, New Delhi, JP Dutta in the presence of his family, was presented with a marigold pin and appreciation certificate by none other than the mentor of Valley of Words, General Ian Cardozo himself.
The 'Marigold flower or gendaa, holds a special reverence in the armed forces as a Flower of Remembrance.  General Ian Cardozo, composed a poem on this floral tribute on 28th March, 2016 which reads…
 'So, pause a moment all who care
and offer up in silent prayer
this sacred flower for a soldier's death
to remember that last most precious breath.'
In his valedictory speech at the function, Chief of Defence Staff General Bipin Rawat said, "JP Dutta saheb is an icon in the way he has been projecting wars through media and the films he has made."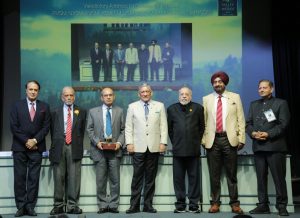 For decades JP Dutta has beautifully woven the Fauj onto the celluloid screen. His cinematic blockbusters like Paltan, Border and many others have inspired a whole generation of Indians to appreciate and celebrate the contribution of our valiant sentinels.
Talking about Shri Dutta ji's contribution, Festival Director, Dr. Sanjeev Chopra said, "JP Dutta has infused patriotic spirit in Indian youth and brought the sacrifices of soldiers in the 1971 war to the forefront of our cultural imagination."
Humbled by the gesture, JP Dutta who turned 72 last Sunday said, "Emotions bring history and I transformed emotions into a small tribute to the Indian Army through Border." He further added, "The Indian Army has not only the arms and ammunition but also character as it's strength."
The pan-India Lit fest will now move onto Vadodara, Kolkata and Hyderabad before its three day finale in Dehradun towards the end of November.
To know more visit us at: http://valleyofwords.org