Chamoli, In the long list of stories that we have done on 'Coming Home' or 'Reverse Migration' we share with you the journey of a promising lady who has brought about considerable change in our home in the hills.
Poonam Rawat-Hahne, the brain behind Fernweh Fair Travel, Peach and Pear Home-stays has been working on making women self-dependent by bringing tourists from all over the globe to their doorsteps in the interior of Garhwal.
An army child, Poonam was a wanderer who loved to explore her surroundings. Bitten by the travel-bug not only did she travel each and every nook and corner of India, the young lady explored the globe, travelling and learning, qualities that she brings on board her enterprise too.
In the year 2005, Poonam and her family opened a woman shelter using their savings under Bachan Charitable Trust Samiti in the memory of her father Major B.S Rawat. Till date the Rawat family has not applied for any funds or grants but used their own savings. It took them another four years to develop the necessary  infrastructure in the villages and more so, to convince families of young widows to let them be independent.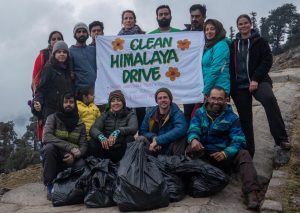 One such heart-wrenching incident of 2010 is still fresh in Poonam's mind, as she narrates, "22 year old Sunita was the mother of two daughters and pregnant with the third child, when I first met her. She was timid, undecided and uncertain of what the future held for her,' and, "it was her helplessness that got me thinking and I decided to do something for the women of the hills and make them independent within the security of their home.'
Today, "Sunita is a village hostess where our guests have a meal at her house and understand about life in a Himalayan village," Poonam states proudly of her prodigy.
With humble beginnings, in 2015 Fernweh Fair Travel launched its first home-stay project, in Gopeshwar. Moving forward, Poonam collaborated with her brother and set up cottages in pristine environs of Chopta. For the past four years, Poonam Rawat-Hahne along with her mother, Tulsi Rawat and her hard-working crew has managed the running of these home-stays playing the perfect hostess to 1500 tourists, which won them the Top-5 Responsible Home-stays of India by Outlook Traveller, this year.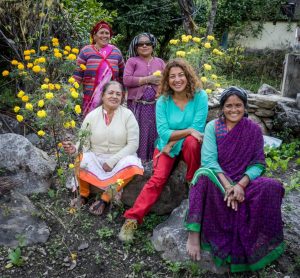 Poonam says, "the primary idea was to stop migration  via empowerment, environment and education projects. Although we focus more on women empowerment but we are not limited."
For now, Fernweh Fair Travel successfully runs sustainable, responsible tourism in Uttarakhand, with the dual-purpose of making villagers independent along with giving tourists an unforgettable flavour of the hills of Chamoli district.
The home-stays along with being eco-friendly have a lot to offer to the visitor. Out-door activities like trekking, soft adventure, village tour, handicraft making, festival celebration, Cooking, Organic farming Aqua-culture, culinary experience, yoga, photography, spiritual trips and wildlife sporting are just some of the activities that bring back repeat clients.
Their latest initiative is an Eco-retreat, permaculture farm under-construction in Mandal. At their Community Development Centre Poonam plans to use local raw material to produce organic products such as soaps, scrubs, pickles, jams, candles, local art, spices, organic produce to market nationally and internationally as well.
Shuttling between Germany and India, Poonam's focus and dedication has won her laurels and mention in both national and international magazines. Her growing family of thirty-five at Fernweh Fair Travel is determined to bring prosperity to those who need it the most.