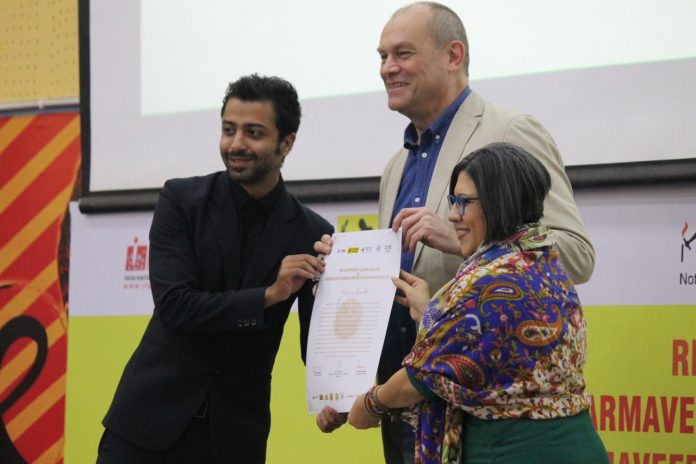 Doonite Puneet Gandhi has been conferred with the REX Karmaveer Global Fellowship (RGKF) instituted by International-Confederation-Of-NGO in partnership with United-Nations at a recently held event in New Delhi.
Puneet received the fellowship for his work "Project Innovation". A Project which worked on adopting rural schools for enhancing their education system. In partnership with international organisation, 'Project Innovation' provided international interns who stayed on campus and conducted various activities including teaching, meditation and foreign languages too.
The three-day congregation celebrated inclusivity, egalitarianism and extraordinary in ordinary, a must attend ceremony for all Karmaveer award recipients and REX Karmaveer Global Fellows as everyone is a learner, teacher, mentor and mentee.
In the words of Jeroninio Almeida, "I believe that everyone is a hero, a leader, a volunteer, a teacher and a champion of change. All we need to do is acknowledge and understand this and then help others to also understand the same. That's all it takes to be a hero, a leader, a volunteer, a teacher and a champion of change."
The award recipients for this year came from countries including Iran, Mexico, France, UK, Romania, Netherlands, Belgium, USA, Singapore, China, Sri Lanka, Bangladesh, Pakistan and many more.
Founder Jeroninio Almeida added, "Ours is not just an award it's a responsibility for being more and doing more by learning more. It's a long journey and the fellowship is just the beginning. That's how we designed our award culture and ethos. That's what makes the REX Karmaveer very different from all other awards
Speaking to Newspost Puneet said, "The award means something more than just  recognition.  To me, it is a constant reminder that what this world needs and what can be done.  This award is not the end of the goal, but rather a motivation for me to give my best in the future, too."