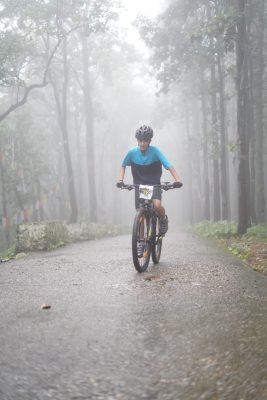 Dehradun, While weather tried to play spoil sport for an enthusiastic group of cyclists  taking part in the "Doon Green" race organised by AdvenThrill,' yet, the sport and the sportsmanship spirit won.
The first such event in the valley was put together by friends passionate about cycling. The race was flagged off from AdvenThrill Office at sharp 6:00 a.m., making its way through Bridge no: 6, Nanur Kheda and finishing at the Khalanga War Memorial a total distance of 10 km.
Close to 45 participants across all age groups were guided and assisted by 20 volunteers from the AdvenThrill Team who provided all possible support to the cyclists. Vijay Pratap Singh, Shubhendra Shahi, Kaushal Pandey and Abhishekh ensured that traffic arrangements were in place despite the pouring rain so that the cyclists could have a smooth ride.
The spirit of sportsmanship was evident in those as young as 14 year olds to those in their 40s'. Nothing could come in the way of the enthusiastic participants, not even the pounding rain as they paddled away to the finishing line at the Khalanga War Memorial, at an elevation of 900 mtrs.
Adding icing to the cake was the fact that coach Mr. Naresh Singh Nayal and Pankaj Rana of the Indian Blind Football Team were at the finishing line, to felicitate the participants.
The winners of the race under all categories were felicitated with trophies and cash prizes.
Winner in the 14-20 age Category:-
1-Pranav Panwar   2-Rakshit Joshi       3-Dhruv Gupta
21 to 40 years 
1- Ramesh Bharti   2- Shaurya Tomar     3- Ashok Limbu
Above 41 years :
1- Sohan Singh Rawat   2- Ajay Bist    3- Dr. Suchit
Women Category:         Soni Meher
Vijay Pratap Singh, the brain behind the cycling competition added, "The weather prediction for incessant rainfall was bang on. But despite all that, the determination of the participants and our Chief Guests at the finishing line was worth all the praise and I am glad that we went ahead with the event, despite the odds."