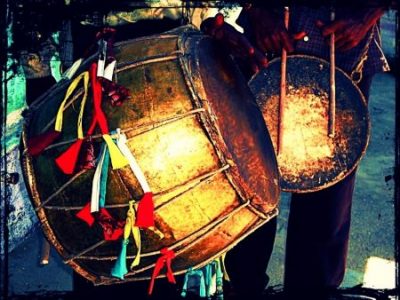 Once a common sight and sound in Garhwal, especially during festivities and marriages. Today a vanishing art form: Dhol and Damaun have been an integral part of every ritual, ceremony and festivity in the hills,  but now, are on the brink of extinction.
December, 2017, I am in Srinagar-Garhwal. For a few moments I can hear nothing. Just the hum of the bazaar and then, rising above it comes the sound of a drum. I follow the sound of the beats and walk into 40 year old Sohan Lal, in a trance. He is amongst the last 50 maestro of this dying art, I find him lost in the world of rhythm and beats.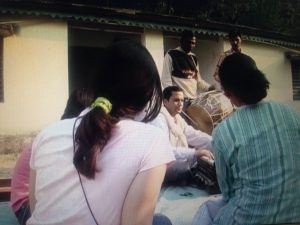 Sitting around him, on the sprawling University lawn, are students whom Sohan is trying to woo with his gift. This is an art form passed down from one generation to the other, but his children have thrown up their arms in despair, given up music for the lure of jobs.
Catching his breath after half an hour of foot thumping beats, he makes his way to the shade of a peepul tree. The drum rests with the drum-sticks thrust through the side-lacing. I get my pen and paper. My tools of the trade. He understands, and says: "Without any formal training we are all amateurs, spluttering, unsteady and muddled! But with dedication and practice I have learnt a few things and want this art form to be taken up by the young and willing."
He is among a few drummers who have kept the art form alive. Though every village in Garhwal still has a drummer family residing in it. Most of them have all together given up. For there is neither status nor money in this vocation.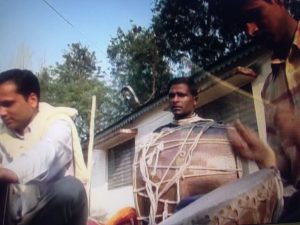 For sometime now the Department of folk performing art and culture, in Srinagar, Garhwal has tried to archive and propagate Garhwal's rich tradition with courses like theatre, folk music and folk forms imparted by the likes of Sohan Lal, masters in their fields. Prof. D.R. Purohit, has been relentlessly working for over two decades now patronizing drums and drummers tells us, 'We have put in our sincerest efforts to pass on vanishing art forms onto the new generation. We have been training our students by the masters of traditional folk arts themselves, who in turn get an opportunity to show case their talent and get monetary benefits as guest faculty."
At a meeting of the Uttarakhand Tourism Council in Mussoorie, former Chief Minister,  Harish Rawat had announced a corpus of Rupees Five Crores for restoring the glory of the Drums of Uttarakhand, which gave a shimmering of hope for the sound of the drum to beat out a rhythm in the hills and valleys of Uttarakhand, but that too has passed by, just like the Alaknanda in Srinagar, to make the Great Indian Plains fertile.