Dateline Delhi: Uttarakhandis in Delhi are in for a treat!  Uttarakhand Film Company along with musical band Pandavaas is putting together Uttarakhand's first film and music cultural tour that will be flagged off from the national capital.
Coming Sunday i.e. 25th of September the team will perform in front of a packed audience at the Nehru Stadium from 5:00-8:00 p.m. beginning  with a special screening of Director Rahul Rawat's 'Sunpat', Uttarakhand's first movie to win the coveted 'Indian Panorama Award' at the International Film Festival of India.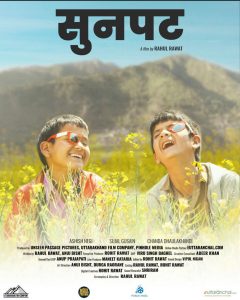 Why did the team chose Delhi for their maiden event,  Kunal Dobhal of Pandavaas tells us, "Anubhuti Uttarakhand is being flagged off from Delhi as we wanted to give it a befitting take off. We will perform in all leading Metros before we end the tour in Dehradun. We would like to make this is a quality event where Art is given priority over everything else." He further adds, "This is the first Uttarakhandi event that has entry-tickets.  We want to ensure quality over quantity. We plan to make this an annual cultural event where we give Uttarakhand artists a stage that they truly deserve."
So what has the response been thus far? We ask Ishaan Dobhal and Rahul Rawat, respectively , "Whenever you start something new there are people who will always judge your decision, doubt your judgement and wisdom. But we stuck to our road-map regarding the event." Rahul adds, "We, as a team, wanted to bring about a change and it has worked wonders. We have had an excellent response and are sold out in two out of the three categories."
So for those who haven't booked their ticket just yet, log on to bookmyshow and make sure you too are part of this 'once in a lifetime' experience doing your bit by encouraging talent from your home state.