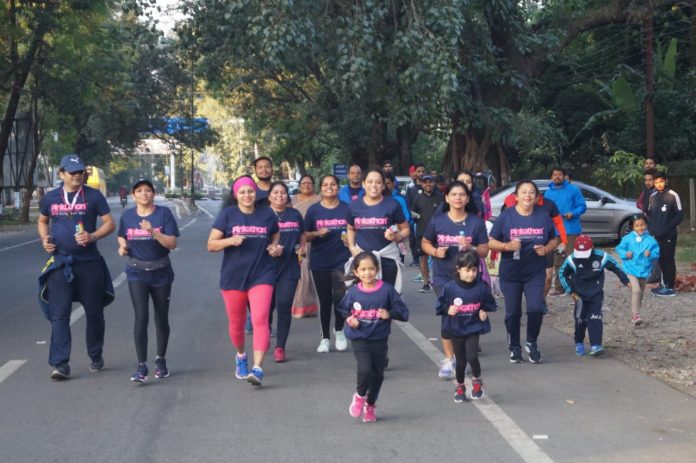 Dehradun, The city woke up on Sunday morning to witness men, women and children alike, participating in the first ever Pinkathon Run. The run was flagged of by International Blind Footballer and running enthusiast Pankaj Rana a resident of Badkot, Uttarkashi at 6:15 a.m. from Mussoorie Diversion to Rajpur Chowk, a distance of five kms, saw an impressive line-up.
Close to forty people, all within the age group of 6 years to 64 years took part in the run. Conducted by Pinkathon volunteers led by Puja Negi and Naresh Singh Nayal, the Pinkathon Run was a first amongst a series of 'Run' organised in sixty-one cities, in which ten thousand runners have participated. Running enthusiasts from Doon made it to the race despite the early morning chill and supporting them, were family and friends who ran along side their peers, encouraging them along the way. Speaking to Newspost Naresh Singh Nayal, one of the organisers of the race said, "the run is to celebrate the health of our citizens and to send a message to the society about how important it is to be fit, and for us to take out time from our busy schedules and dedicate it to our physical and mental well-being."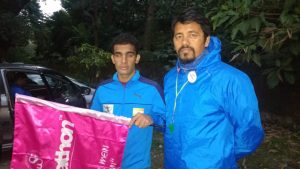 The runners enjoyed the morning run, under the canopy of trees along the Dehradun-Rajpur stretch.  Volunteers from Benchmarkers made sure that there were no hiccups along the way, and that the run was a success. The Dehradun Runners Club members Shashi Bhushan Uniyal, C Sudhir and Anupam graced the occasion.
In the near future,  Pinkathon Dehradun Group plans to organise the race at a larger scale so that more participants can partake in the awareness run and spread the message of being hale and hearty.