Dateline Dehradun:  Vishwajeet Sanjay Pokhriyal Memorial Trust, Vasant Vihar, Dehradun  began as a small initiative by Abha Pokhriyal on the 15th of August, 2021. Started in the fond memory of her husband and son whom she lost to Covid early last year. Helped by family and volunteers this self-help group of women from the weaker section of the society has turned the tide.
Vishwajeet Sanjay Pokhriyal Memorial Trust is your one-stop shop for anything that you may fancy. Priced anywhere between 500/- to 2000/- rupees there are hand knitted stoles, caps, ponchos, sweaters, cardigan, baby suits that bring warmth to the soul or hand-painted runners, mats, napkins that add more than just colour to your home decor. Embroidery bags, sari bags, suits to Macrame coasters, purses, sling bags, key chains all made with love.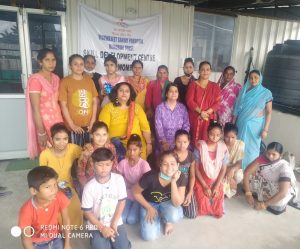 Volunteers as young as ten year old to the eldest being in her forties are personally trained for weeks on end. The raw material for the same is made readily available by the Trust. Once they master the art of either knitting, sewing, painting or macrame the team hands over raw material and assignments to deliver. All this for a nominal monthly income.
Today Abha has little time in hand for anything else. Immersed in working closely with her talented team she tells me, "past few months have been busy but in a good way. Our customers have been very encouraging and we have repeat orders for most of the items."
'Future plans?' I ask. Abha replies, "I would like to expand slowly and run similar centers in Himachal Pradesh and in the interiors of Uttarakhand. We want to reach out to womenfolk and help each other. Seeing the enthusiastic response of our clients, we are also thinking on the lines of going online real soon."
To order call: +91 75368 07471
Or drop in at: 369- Indira Nagar Colony , Post Office New Forest, Dehradun, 248006, Uttarakhand