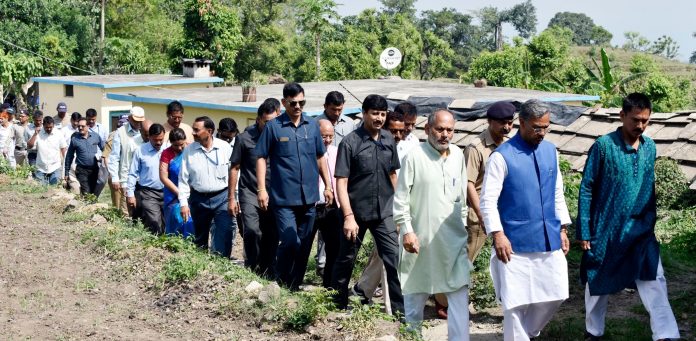 Uttarakhand Chief Minister  participated in a programme to mark the rebuilding of government primary school, Talla Banas in Yamkeshwar block,Pauri District.
In a programme organized by Shrimadbhagvad Mahapuran and Bhandara Saimiti, Talla Banas , Chief Minister  Rawat appealed to the people to make collective efforts for water conservation and plant more trees in the surroundings.
Expressing concern at the depleting forest wealth, Chief Minister said that depleting forest wealth is directly affecting the water resources which in turn in is adversely affecting human life. The Chief Minister expressed concern at depleting natural water resources and water level in the rivers. He said that if the water resources continue to dwindle at the present rate the days are not far when there would only be pipelines in the homes without water.
Chief Minister said that the state government has prepared a work plan to plant record number of saplings. He announced that in the month of July large scale plantation activity will be undertaken by the state government. Besides, the people will also be encouraged to do voluntary plantations. He also praised the efforts of "Maiti Andolan" in plantation. He appealed to people to adopt plantation on the pattern of "Maiti"
Chief Minister termed MANREGA scheme important for self-employment and to meet the water shortages in the hills. He said that solution of all the problems of rural areas is possible through MANREGA.
He also talked about giving encouragement to home stay scheme, making bio-fuels from 'Pirul', essence from roses, production of cannabis for self-employment. He also stressed on adopting Kenova farming as it takes less water and less time to fructify and gives good returns. He also talked about adopting voluntary land consolidation and growing lemon grass and putting check dams to conserve water.
Before the programme, Chief Minister Mr. Trivendra Singh Rawat also inspected the training given by Hill Mail Foundation. The people of Banas Talla and Malla and other surrounding villages apprised the Chief Minister about the problem of water scarcity and motor road in the Rajaji National park area. Chief Minister Mr. Trivendra Singh Rawat assured to get a water scheme prepared for Banas.