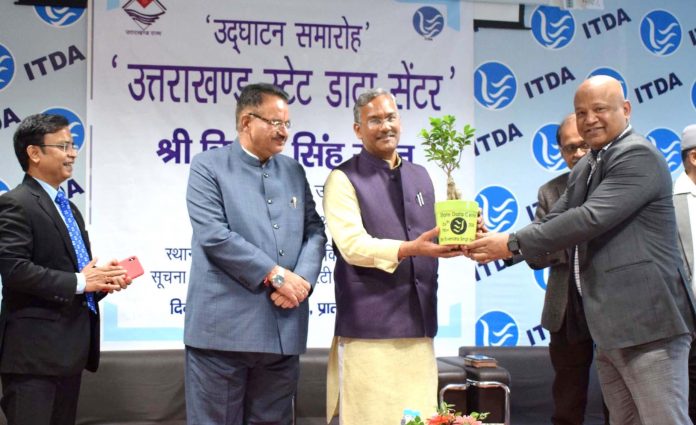 Chief Minister Mr. Trivendra Singh Rawat inaugurated the country's first Hyper Converged Infrastructure State Data Centre in Dehradun. Thea 3-tier State Data Centre, developed by the Information Technology Development Agency (ITDA) of the Uttarakhand government, is the first of its kind data-center in the country, with 100 per cent software based Hyper Converged Infrastructure (HCI) Technology. It has 105 terabyte form, which can be expanded up to 12 petabyte.
Chief Minister, while congratulating the team of the Information Technology Development Agency (ITDA) for successfully completing the State Data Centre before the deadline, "We have to develop such a system that the government work is completed in a fixed time frame. This will also remove the shortcomings of our system. Efforts are being made that a certain part of every department's budget is being spent on IT and technical development."
The information of all government departments will be available under one roof and hence  speed up activities and save energy. Based on modern and green technology, the CM felt the need to connect the State Data Centre with Solar Energy. A step in realising the vision of the Prime Minister's Digital India, the establishment of the State Data Centre, is a great leap in the digital sector.
ITDA added that, "the Date centre is developed on the latest technology on Hyper Converged Infrastructure (HCI) which has  been developed on Green Concept to reduce the use of electricity and increase efficiency. All citizen centric services will be accessible through this State Data Centre. It will also reduce burden on the public exchequer.  Modern biometric systems and 24×7 CCTV surveillance makes State Data Centre even more secure and reliable."