Dateline Uttarkashi: For young and energetic Sandesh, Vikas, Lalita, Kavita and many amongst these seventy-five young children the month of August has been special, and no not only because of the 75th Independence Day
Thanks to the initiative taken by two young officers of the Border Road Organization 72 RCC, stationed in the Indo-China border in Uttarkashi the world of words have been introduced to young minds like them.
Rahul Yadav, Junior Engineer of BRO 72 RCC and Subedar Sandesh Pawar switch roles and teach close to seventy-five children of some five hundred labourers mostly from Jharkhand, Bihar and labourers from Naga, Hindoligarh and Jangla labour camps in the interiors of Garhwal.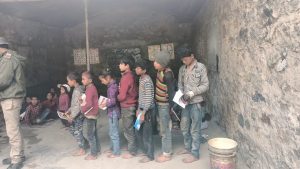 Aged between four-year-olds to fourteen-year-olds the children have been living a nomadic life in BRO camps with their folks who work as labourers for the Border Road Organization in the bordering districts of India. The idea came into being when the officers noticed how the children stayed back in the camps without any supervision as their folks set out to work early morning and returned late in the evening. The safety of the children and keeping them engaged in a fruitful activity was of utmost priority for the officers who brainstormed ideas and decided that pen and paper would be the best way forward.
A few weeks into their open-air classes, the children come together at 8:00 a.m. sharp and follow a flexible time-table. From English, Hindi to basic Maths, the boys and girls are smitten by the written word. They look forward to their daily classes as much as their dedicated teachers.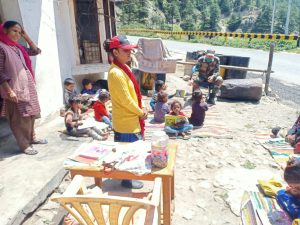 Major Binu VS, Officer Commanding of BRO tells us how on the occasion of the 75th Independence Day colourful stationery was distributed amongst the children who are now hooked to the world of alphabets and numbers all thanks to the initiative of two young officers.