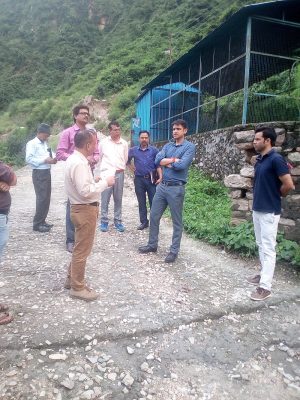 Spear heading many initiatives, Rudraprayag's District Magistrate Mangesh Ghildiyal has worked to make the border district ahead of others. Rudraprayag, the doorway to the shrine of Kedarnath and Badrinath witnesses lakhs of tourists and pilgrims passing through leaving behind heaps of garbage. Just a week back, the DM took a review meeting regarding Solid Waste Management in the District and came up with some unique methods to battle garbage.
The DM instructed the Municipality and Nagar Panchayat of the district to segregate biodegradable and plastic waste for easy disposal. Shruti Samaj Vikas Sanstha, which has been collecting waste from eight wards has been instructed to put up garbage bins for segregated waste. RK Mishra of the Srishti Samaj Vikas Sansthan apprised that a waste disposal machine lay defunct in Rantoli which the DM ordered to be fixed with immediate urgency.
Executive Officer of Nagar Panchayats in Agasthyamuni, Ukhimath, Tilwada were instructed to keep cleanliness in their wards and to take action against those who littered in the open.
Fourteen places were identified in town to install CCTV cameras so that those who littered  could be fined, immediately. Four cameras are to be installed at Punand Gadhar, another four in Vohra Drain and two each at Upper Bazaar; Bailley Bridge and at the confluence of Mandakini and Alaknanda river keeping  a close watch on those who dare to litter.
Efforts like these will definitely ensure, that in the long run, Devbhoomi goes green!