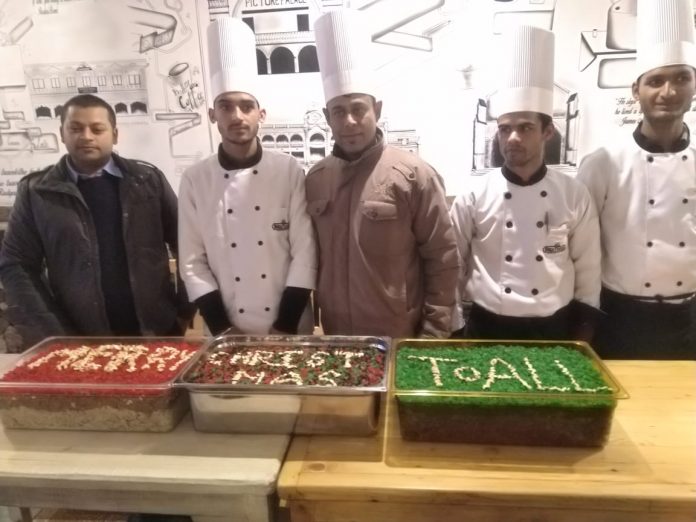 Mussoorie, Keeping the tradition of 'Christmas cake-mixing' alive in the hill-station of Mussoorie, Brentwood Hotel and Resorts, had its first ever cake mixing at their newly opened bakery Café de Tavern, on the Mall.
Run entirely by local boys recruited from the hill-station and its immediate surroundings, the motley of bakers are consciously working on making 'their' Bakery 'the best in town.'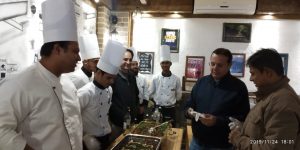 Kartikey Mohan, the young Bakery Head Chef along with the staff of Café de Tavern brought in the spirit of Christmas early for locals and tourists alike with the mixing ceremony. Taking close to forty-five minutes, cinnamon to bay leaf, nutmeg, candy ginger, tutti-frutti, dry apricot, black currant, raisins, almond along with other dry fruits and orange peel were soaked in rum, vodka and brandy to enhance the flavor of the ingredients which will then rest for the next few weeks, before the sixty pound cake is baked.
Rajat Kapoor, Director, Brentwood Hotel and Resorts, tells us, "We started the bakery a month back, this seemed to be the best platform to introduce the bakery to the town, and the community. The idea is to give tourists and locals, the best of our traditional bakery products during the festival season." Sandeep Sahni, Director, Brentwood Hotel and Resorts, adds, "We hope to make it an annual affair in sync with the English tradition which the schools and churches in town have imbibed in all of us. Christmas is a festival which is celebrated across continents and Mussoorie being a cosmopolitan town has kept alive the tradition in its true form."
With Christmas almost a month away, the Café de Tavern promises some signature preparations and festive offerings like Christmas Cakes, Christmas Puddings, Tarts with custard sauce, Mince Pies and plenty more to tickle your food buds during the festive season which will last through the Mussoorie Winterline Carnival, from the 26th-31st of December.