Dateline Dehradun: Noted Tibetan activist and writer Tenzin Tsundue along with his friend Tenzin Leckphel, film maker from Dharamshala are out on a joint-mission. Over the next three months the duo are making their way  from Ladakh to Arunachal Pradesh as part of "Walking the Himalayas," initiative, spreading the message of Free Tibet.
On their 37th day of this long march, the duo made a pit-stop at the Press Club in Dehradun, where they screened "Escape of The Dalai Lama from Tibet'  produced by Mumbai based Rangrez Films for Epic TV channel, an opportunity that the duo take to garner support for free Tibet.
The eighty minute Hindi film is screened using a projector, soundbox and a white bedsheet for a screen at villages, market places, schools and civil societies  that they have passed by over the last few weeks. This was the film's fiftieth screening.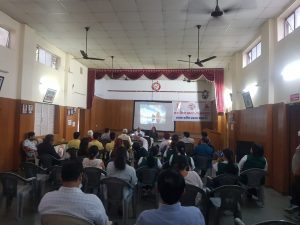 Since the 17th of August, Tenzin Tsundue along with his friend Tenzin Leckphel, have  travelled the length and the breadth of the mountains come rain or sunshine, using local transport like shared jeeps or buses, if not walking through different States. So far they have covered Leh, Nubra, Kargil, Zanskar, Jangthang Nyoma in Ladakh; Lahual, Spiti and Kinnaur in Himachal. In Uttarakhand they plan to travel from Dehradun onto Pauri-Garhwal, Nainital, Almora, Dharchula, Pithoragarh before heading to Kalimpong, Darjeeling and Gangtok; Itanagar, Bomdila, Dhirang, Tawang and border areas of  Arunachal Pradesh.
Given an opportunity,  Tsundue conducts  'Creative Writing Workshop' or a 'Poetry Reading Session' for young minds wherever it is possible to engage them in their travel schedule.
The Dehradun Chapter of hosting the two artists was organized by Regional Tibetan Youth Congress Dekyiling, one of the eighty chapters of Tibetan Youth Congress.
Trailer of the film: