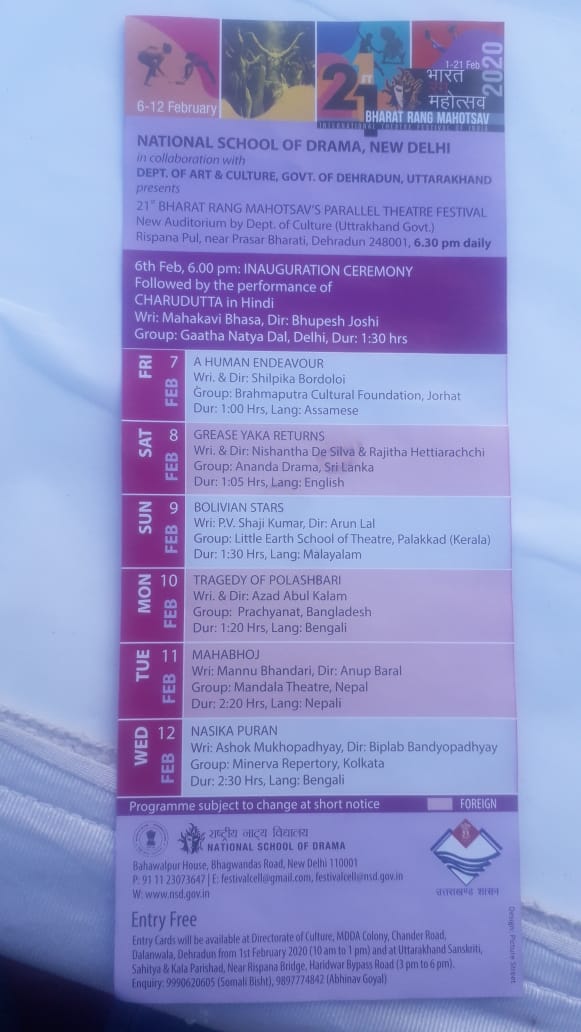 Dehradun, A parallel edition of 21st Bharat Rang Mahotsav is being held in Dehradun. Considered one of India's biggest theatre festival, the Mahotsav is wooing audiences with world-class theatre showcasing modern theatre & regional dance forms.
Organised by National School of Drama in collaboration with the Department of Art & Culture, Government of Uttrakhand. The seven-day festival began on February 6 and will continue until the 12th of this month.
Sh. Abdul Latif Khatana, Chief (Tie), NSD says, "During the festival, theatre enthusiasts will be treated to an exciting mix of modern theatre that promises an indulging theatre experience, alongside authentic 'deep-remote-area' regional and international performances."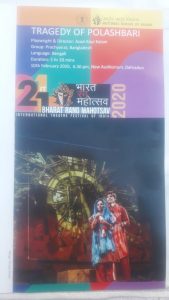 The 21st Bharat Rang Mahotsav is showcasing a range of productions comprising  of 7 shows from critically acclaimed plays, carefully curated from across India and around the world. Among four Indian plays, two plays would be held in Bengali and one each in Assamese and Malayalam. Whereas, two international performances from Sri Lanka and Nepal will be staged in English and Nepalese respectively.
Dr. Arjun Deo Charan, Acting Chairman, NSD said "BRM aims at uniting individuals. BRM has been an exceptionally effective celebration drawing in a ton of crowd and we trust a comparative run for the current year as well."
Telling us more about the week long festival, Suresh Sharma, Director In-charge, National School of Drama (NSD), said, "The 21st Bharat Rang Mahotsav focuses on providing an engaging audience experience. There are shows that will leave a far larger imprint on the audience than just making them simply watch something. Hence the audience will also experience the importance of space, design and environments."
Besides the plays,  traditional dance and folk performances will be staged round the clock at the venue.  21st Bharat Rang Mahotsava is also being hosted parallel in other cities viz. New Delhi, Dehradun, Nagpur, Villupuram and Puducherry.