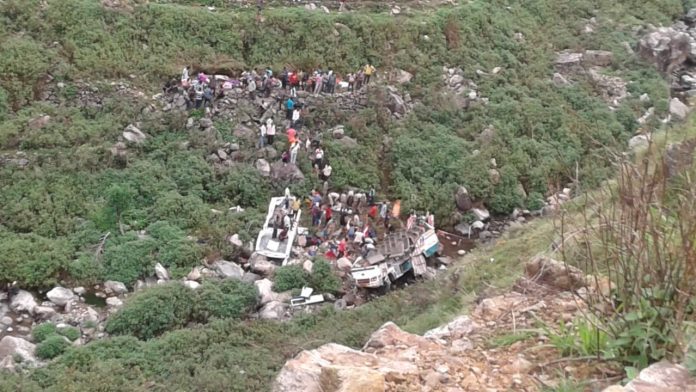 Pauri, Residents of  Pauri District woke up to what many claim to be a Black Sunday. 47 dead and a few seriously injured in a fatal bus accident that has sent shivers throughout the  hill-state.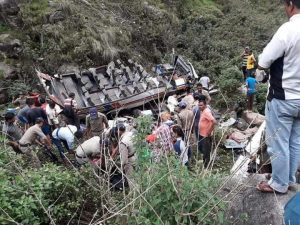 Tragedy struck around 8:45 a.m. today morning in Naini-danda block, on the Pipli-Bhaun road. A local 28-seater passenger bus number UK 12C 0159 was full beyond capacity. Close to 52 passengers were said to be on-board when the vehicle rolled off the hill close to Gwin Bridge, landing turtle in a deep ravine.  The ill-fated bus is said to be heading from Bhaun to Ramnagar when eye-witnesses tell us that the bus driver lost control while negotiating a bed and went off the road, much to everyone's horror.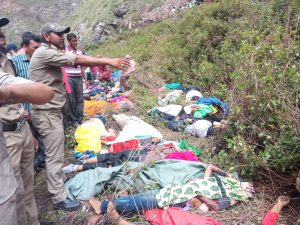 Locals from Quin Village were the first to reach the crash site and aid and assist the passengers of the ill-fated bus. Police and local administration along with SDRF team lost no time in reaching the spot to assist in relief and rescue.  Sanjay Gunjiyal, IG SDRF speaking to Newspost said, "Presently there are close to 25-30 police personnel and another 10-12 SDRF personnel over-seeing relief and rescue, more are on their way. Rain and overcast weather has made it impossible to airlift and bring the injured from Dhumakot to Dehradun impossible. At present the injured are being treated at a Primary Health Centre, in Dhumakot."
Chief Minister Trivendra Singh Rawat expressed deep anguish at the unfortunate incident and has announced  2-2 lakh each to next to kin of those who lost their lives and 50-50 thousand each to those who have been injured. Chief Minister also instructed officials to make use of chopper services to evacuate the injured and bring them to Dehradun, if need be. A Magisterial inquiry has been ordered into the incident as well.