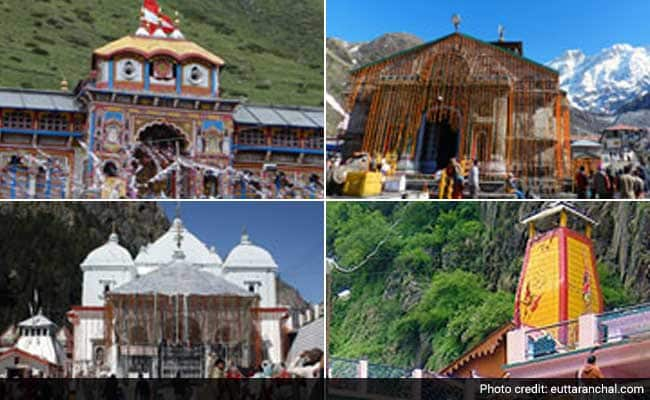 Dehradun: Uttarakhand's four world famed shrines – also called Chardham – will have a staggered reopening this year. Traditionally, the annual world-famous Chardham pilgrimage comes to an end around Diwali. Springs brings with it, the dates for the re-opening of the shrines.
This year due to the pandemic, three (Yamnotri, Gangotri and Kedarnath) will fling open their portals in the month of April, but Badrinath – the abode of Vishnu – will reopen on the 15th of May.
Far away in the remote Bhuyndar valley of Garhwal Himalaya is the Sikh pilgrimage site Hemkund and Lokpal Temple. Traditionally, they would open to pilgrims on the 1st of June. However the route is still snowbound and because of the present lockdown, it is still inaccessible. So a new date for the reopening of this pilgrimage destination will now be decided after 3rd of May.
Sprawled across Chamoli and Rudraprayag Districts, three of the Panch-Kedar temples dedicated to Lord Shiva, have the following schedule: Madmaheshwar will open on the 11th of May; Rudranath on 18th of May and Tungnath, the highest of them all will be the last to reopen on the 25th of May.
Despite inclement conditions, the Uttarakhand State administration has left no stone unturned to ensure that facilities and all-weather-road safety norms were in place before pilgrims from home and foreign shores throng to 'Devbhoomi,' to partake in what is considered, a pilgrimage of a lifetime.
While Chardham Yatra is one of the major sources of income for a State that thrives on spiritual tourism, this time around, Covid-19 has asked for a course correction, and where that will take us makes for another story. 
Chardham Opening dates:
Yamnotri : 26th April
Gangotri : 26th April
Kedarnath: 29th April
Badrinath : 15th May
Off-the-beaten-track temples:
Madmaheshwar: 11th May
Rudranath: 18th May
Tungnath: 20th May